The best Langpai USB C Dock Station for Macbook Pro 2020 (12 in 1)
The best Langpai USB C Dock Station for Macbook Pro 2020 (12 in 1)
Along with the popularity of Type-C interfaces, many brand suppliers have begun to streamline interfaces on notebooks and laptops. For example: Apple, Huawei, Google and so on.
In this case, what about the external devices?
For example, if you are using a new MacBook or MacBook Pro now, how to use the external mouse, keyboard, game handle, hard disk, display, and other devices? Do you want to look for a device that enables you to expand the peripheral interfaces, from the only one USB-C port? LANGPAI's HRY-231 is just an ideal device for your Macbook.
It has 5 USB-A ports, 2 HDMI interface, a VGA output. a SD /Micro SD card slot, a Gigabit Ethernet port and a USB-C port (for Power Delivery), which allows you to connect all needed devices to your PC via only one USB Type-C port. It transforms your new Macbook to a desktop PC.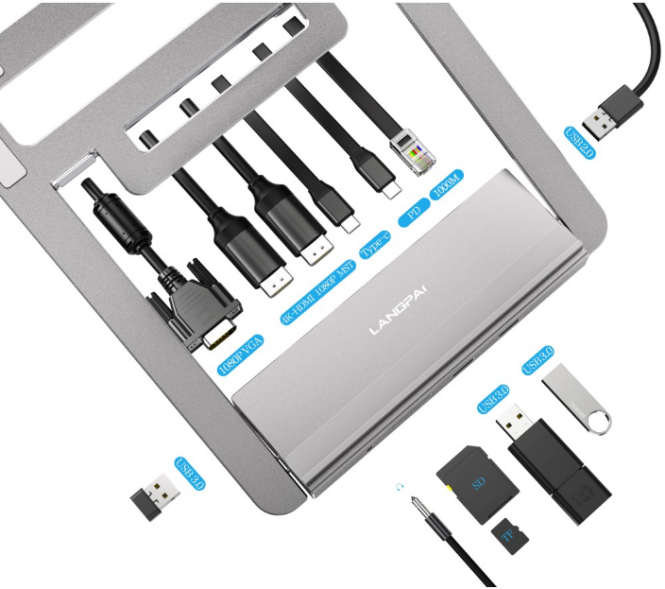 This USB C dock station can fit in 11" to 15" notebooks very well. With the bracket design for a tablet, your desk will always remain tidy and organized, and you can also work comfortably with your tablet when on the go.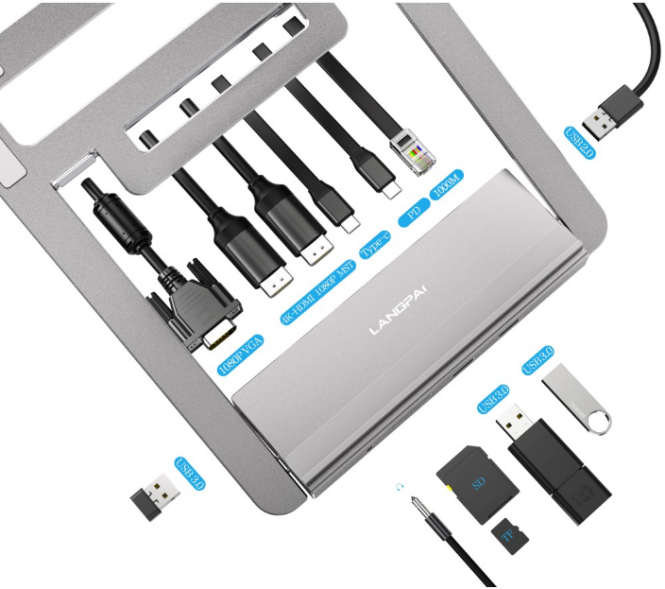 With 18° Golden Support Angle, it can help you to relax your wrist and neck well.
Unique Heating Source Separation Design for Type-C dock station
12 in 1 Multi-functional USB Type-C Hub
This USB C dock station has 3pcs USB 3.0 Ports, with the data transfer rate of up to 5.0Gbps, you can transfer the data between your laptop and smart phone, music player, flash drive, and external hard drive quickly and efficiently.
2pcs USB 2.0 ports: You can use your old USB-A devices on your new laptop conveniently.
The new Mac and other Type-C devices removed the SD card slot, which made the inconvenience for the users. Our HRY-231 has SD and Mirco SD card slot, and solved the problems for many Type-C devices without card slot.
This unit can support pass-through charging of up to 100W. It is enough to power up your Macbook Pro or other USB C port devices at high speed. Allows you to connect and use your compatible peripherals at the same time. What is the concept of 100W? That means it will only take 17 minutes to charge a 4000mAh battery, which is only a bath time.
You can enjoy the superior security and increased speeds of a wired Gigabit Ethernet connection by connecting with 1Gb RJ-45 Ethernet port.
When connecting with the projector or HD display through the VGA port. It is more convenience for meetings and offices.
In particular, this unit has 2 HDMI video outputs, which can mirror or extend the screen to HDTV, monitor or projector, to provide an extraordinary ultra high-definition experience. You can connect it to an external 4K 30Hz display through the HDMI port. If your device supports 4K, you can enjoy the large, beautiful and high-resolution display on the additional display.
Note: When HDMI and VGA work simultaneously, the resolution is 1080P/60Hz.
In today's PC world, all peripherals and additional displays at your fingertips are essential. less is more. For users who want to keep the table clean and tidy and want to have an all-in-one hub, the best USB-C hub for Macbook Pro-12 in 1 is your ideal choice.