Why Dual HDMI Docking Station Is the Ideal for All Needs?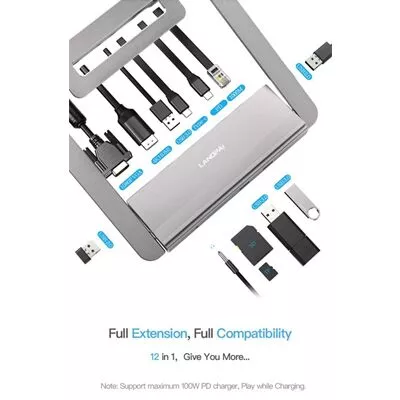 Thanks to the technological progress of the last decades. Nowadays dual HDMI docking station are available on the market lighter, more portable and easier to use. However, their technical characteristics are often limited.
Just think, for example, of the performance of any laptop to see how significantly these differ from those of a desktop PC. Those who do not want to give up certain features and certain comforts often have to resort to external solutions that increase the features of their notebook, tablet or smartphone.
Among the most common additional supports are the so-called docking stations. New generation accessories that greatly improve the user experience of users.
What is a dual HDMI docking station and what is it for?
Docking stations are peripherals that greatly amplify the functionality of any mobile device.
There are universal docking stations and docking stations on the market that are compatible only with products of certain brands. If you do not have particular needs, it is better to opt for the first category of products.
How to choose a docking station?
Before making any purchase, it is necessary to keep in mind some factors and to keep in mind what our needs are.
It is useless to focus on high-level models if we do not need particular features. On the contrary, if we cannot do without all the functions of a desktop computer and we want to connect additional peripherals or particular supports to a portable device. We must evaluate the purchase of dual HDMI docking station that belong to a medium-high price range.
The appearance and compatibility are also to be evaluated
Better to choose models with a simple and essential design to limit space problems and those related to ease of use.
As already mentioned, it is recommended to buy universal docking stations that easily adapt to external supports of any brand.
The best docking stations of 2022
What we consider the best dock stations of 2022 are briefly reviewed below. This selection is common to guide you if you intend to buy one but do not know how to move given the wide range of products offered by the market.
Often these are not just simple multi-port peripherals, but real accessory tools that allow you to amplify the functionality of any device and improve its performance.
Kensington
That of the Kensington is a dual HDMI docking station with which you can add two additional screens to a notebook. In fact, it is possible to expand your workstation by connecting VGI, VGA or HDMI monitors to the universal device.
You can connect a microphone and headphones to the appropriate input ports on the front of the device.
On the front there are two USB 3.0 ports from which you can charge phones or tablets and transfer data from one device to another.
On the rear side of the docking station there are also four USB 2.0 ports to which you can connect a printer, keyboard, mouse or other, without the peripheral cables being directly visible.
Dual HDMI docking station comes with an intuitive management console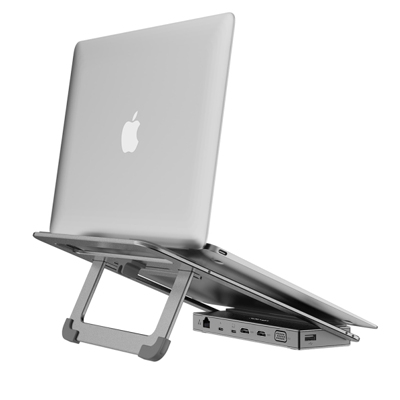 The device also comes with a very intuitive management console, which can be selected directly from the taskbar. You can switch between viewing modes by adjusting the position and alignment of the screens.
Also, with this docking station you can connect two monitors (HDMI or DVI) to a computer, Mac or Windows laptop.
You can amplify the functionality of a mobile device by connecting additional peripherals to it thanks to the six USB ports, four USB 2.0 and two USB 3.0, which the docking station has. There are also ports for microphone and headphones.
Its minimal and vertical design guarantees the high portability of the product. You will significantly save space on your workstation.
VAKO docking station
The VAKO dual HDMI docking station is a peripheral with an elegant and compact design. It will allow you to amplify the functionality of your laptop (or any other mobile device). Docking station saves space and radically changing the user experience of your device.
It supports Power Delivery 3.0 technology with a nominal power of 100W. It offers the ability to recharge the batteries significantly faster than non-PD chargers.
Another noteworthy model is the DYNADOCK V3 Plus
It is a model designed especially for PCs on which the Windows operating system is installed and are equipped with a USB port.
Thanks to its technology, you can connect with a single cable: external drives, monitors, mice and many other additional accessories. However, dual HDMI docking station is not just a simple port replicator, but a real external means with which you can improve and optimize the performance and functionality of your computer.
Given its size, it is a highly portable and certainly useful product.
WAVLINK USB 3.0
If you want to save space but still want your mobile device to have additional features. You could choose this WAVLINK dock station.
Universal docking station allows you to expand workspace
Thanks to a single USB cable you can connect up to two additional monitors to your device. You can connect it to an Ethernet network and to nine peripherals without using other bulky wires. Dual HDMI docking station offers no charging possibilities. It is a simple USB hub.
You can connect peripherals such as external hard drives or USB graphics adapters to the two USB 3.0 ports. You can connect keyboards, mice, printers or other older devices to the four USB 2.0 ports.
Finally, the docking station comes with inputs for microphone and headphones and a Gigabit Ethernet (RJ-45) network port.
For correct operation of the expansion station it is first necessary to install the drivers on the CD supplied with the purchase.
The Lenovo docking station is the ideal solution for all needs
The Lenovo dual HDMI docking station is the ideal solution for you. If you intend not to give up certain additional features, while still preserving the practicality of your workspace.
Your user experience will be significantly better as you no longer have to deal with the classic limitations of any laptop. At one time you can connect multiple peripherals to your notebook.
Experience 4K resolution on a single screen or a new level of multitasking using multiple monitors with this docking station.
USB data is transferred at a speed of 10 Gbps. Thanks to the technical specifications of the Lenovo dual HDMI docking station. You can use a simple and reliable connection. It will also allow you to recharge your mobile devices.