Top 2 Computer Docking Station at Szlangpai in 2022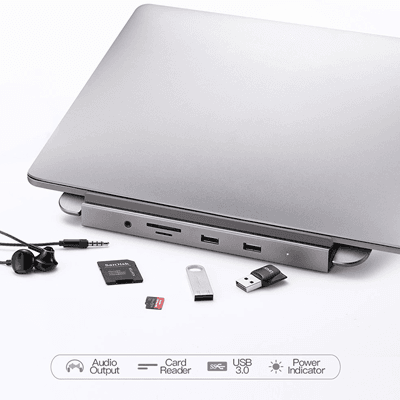 In many ways, laptops are inferior to personal computers: they have few connectors, a small display, and a cramped keyboard. If the modest resources of a laptop severely limit your work, a computer docking station will come to the rescue.
It will take only one laptop port, but it will give incomparably more. It has the ability to connect wired peripherals; display images on a large screen, recharge a laptop, and much more. In short, a docking station is a way to turn a compact folding PC into a full-fledged desktop machine.
USB-C 4K Triple Display Docking Station
The Universal Docking Station can connect up to 3 4K monitors at once. This model is the best analogue of premium docking stations from more famous brands. It exists in two versions that differ in image output methods: one HDMI + two Display Port or two HDMI + one DVI.
For USB connections, modern Type-C and Thunderbolt 3 provides, though without Apple Mac support, so this station can only be used to work with Windows laptops.
A cheaper and more common store alternative is the Dell USB 3.0 Ultra HD Triple Video Docking Station. Similarly, computer docking station is also capable of handling three external monitors.
HRY-231 computer docking station
This expensive but highly functional accessory for your Thunderbolt 3 MacBook lets you add two external displays or display your laptop on a 5K monitor. There is a wide range of connectivity here: 15 different connectors.
Furthermore, it includes seven USB, an SD card reader, an output for audio equipment and a microphone. It will be very easy to place this station in the workplace, because it works in both horizontal and vertical positions.
Plugable USB 3.0 Dual Monitor computer docking station
Almost all docking stations connect to computers via USB-C, but there are exceptions, such as Plugable USB 3.0. This model works via standard USB. Since it does not feature high-speed Type-C, the price of the device is lower.
Through it, you can connect two external displays – one via HDMI, the other via DVI. However, unlike other docking stations, this one will not recharge your laptop while in use.
There is another option with similar capabilities: Lenovo ThinkPad USB 3.0 Pro Dock. It also supports dual monitors. Moreover, it has a good set of connections and connects to a computer via USB-A 3.0.
HRY-230 computer docking station
HRY-230 is a universal computer docking station for a computer of any brand. You can say a Swiss Army knife. Everything is there: additional USB ports in the amount of 4 pieces, Ethernet, HDMI with support for modern monitors, VGA.
The docking station itself is small in size, and lightweight materials are used in its body. This makes it easy to carry it from place to place and even carry it from home to work.
Another compact option is the Type-C Station 11-In-1. This model is compatible with computers running Windows and macOS, and a wide range of connections will allow you to work simultaneously with a large amount of peripherals.
QGeeM USB 3.0
The name of this device has an important characteristic – the presence of USB 3.0. Since in the modern world USB is most often required to connect devices, the manufacturer put 6 USB ports in the current 3.0 modification into this model at once.
This is definitely enough for an external keyboard, mouse, flash drive, charging cable for a smartphone, and there are two more left for office equipment.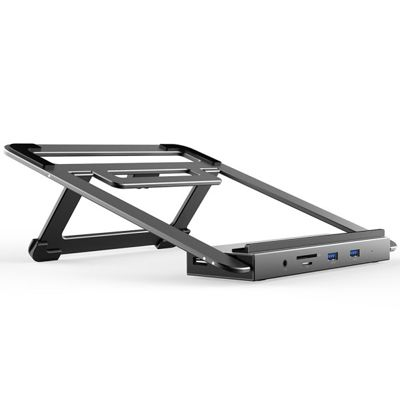 This is not to say that the presence of a large amount of USB is the only positive attribute of this computer docking station. There are two HDMIs, a microphone input, an audio output and an Ethernet connector, that is, everything you need to work.
The Momax OneLink 11-in-1 USB-C docking station has about the same amount of functionality. It is a thin panel that can be placed under a laptop to save desktop space.
QGeeM USB-C computer docking station
This model is related to the previous one, only it has less USB capabilities. This is a very affordable docking station for Windows and Mac computers. It comes with two HDMI and one VGA ports for connecting external monitors.
This accessory will not take up much space, and it will be a reliable companion on work trips, as its small size allows you to take it anywhere.
MagBac Laptop Docking Station
For a heavy laptop that doesn't leave the work area, the same low-portability MagBac computer docking station will do. It is useful for two things. Firstly, all connectors are on the same side. This makes it easy to connect devices.
And secondly, the design allows you to put MagBac under the bottom of the laptop, thus providing good airflow. The station comes with rubber feet that will prevent it from slipping off the table.
Specifications meet average needs: one HDMI, one VGA, Ethernet, SD/TF card reader, 3 USB 3.0 and one USB-C. The station is equipped with indicator lights that tell you which ports are in use.
Common computer docking station
There are very few ultra-thin docking stations, and those that are designed for a specific line of laptops. For example, HP Ultra Slim is only suitable for the HP Elite Book series. But if you are the owner of just such a laptop, it is difficult for you to recommend a more successful docking station.
For Dell laptops, tablets and Chrome books, a USB-C computer docking station from the same manufacturer is ideal. You don't have to worry about the compatibility of devices, since they will all be made in the same design and have 100% compatibility.
As for the technical specifications, there are only the bare necessities here: two video outputs (DisplayPort and HDMI), Ethernet, an audio jack and 4 pieces of USB 3.0.
Lenovo ThinkPad Ultra
For those who don't part with their Lenovo ThinkPad at work, there is a docking station that is fully up to its level. This is the ThinkPad Ultra computer docking station, the perfect office accessory with multiple ports, security lock slot and laptop charging function. The set of connectors includes as many as four USB-C, two HDMI and one Display Port.