USB TYPE C DOCKING STATION-Your Road To Success
The design of high quality: USB TYPE C DOCKING STATION
Using the latest 10Gb/s USB3.1 generation advanced chipset and high-end 3D chip, it has a new aluminum shell and strong waterproof design, which can provide you with a new data experience. It supports a Type-C interface, and a solid copper core to bring excellent electrical links, and meets a variety of work or play conditions.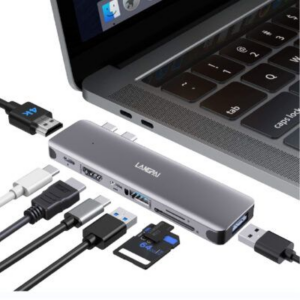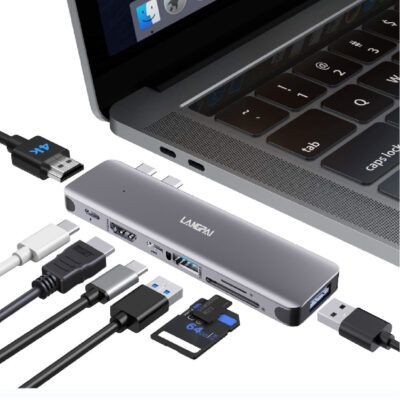 Options for your computer to provide more ports:
1、One USB-A port, one USB-C port, one Gigabit Ethernet port, and three audio jacks for headphones, a microphone, and speakers.
2、Generally, the only connection is USB-C, but some also have Thunderbolt 3.
3、Some devices also have an SD card reader and audio input/outputs. Some even provide power delivery back to your laptop or tablet.
4、HRY-260, provide a Gigabit Ethernet adapter as well as a USB hub with three 2.0 ports, two 3.0 ports, and two USB-C ports that support power delivery up to 60W.
5、offers HDMI and VGA video outputs.
Enough power for most devices:
The docking station comes with a 120W power supply that should provide enough power for most equipment. The UDS-CA1 connects to additional displays, keyboards, and mice via HDMI, VGA, and DisplayPort. It also provides 85W (19V@3.42A) of extra power to charge your laptop, which can bring great convenience for your work and travel.
3.5mm audio and mic ports – connect headphones or a microphone for presentations and meetings:
If you need to connect a microphone or headset to your laptop or tablet, you've come to the right place, taking a look at our USB-C docking stations. It has 3.5mm audio and microphone connectors on the back, giving you multiple options when you need to connect external speakers and microphones. In the meantime, the USB-C port lets you keep using your old laptop or tablet and offers some modern features that weren't available before.
Full gigabit speeds:
The Ethernet port delivers full gigabit speeds, so you'll have no problem streaming movies or playing games online. When you use the HDMI port, you will be able to easily sync your laptop with your TV. This means you can plug your PC into a big screen and stream directly.
This exquisitely designed, 4g-capable gigabit USB-c multimedia Dock delivers a stunning 44Gbps multi-stream hardware coding for modern workstations. You can enjoy a smooth, and high-definition video viewing experience with stylish interfaces like GoogleCast. It features Quad HD content resolution and a 60Hz refresh rate for stunning, ultra-smooth 4320p UHD video.
The dock supports two 4K displays at 60Hz over HDMI or DisplayPort:
With 18 Gbps transfer, USB 3.1 Type-C can transfer uncompressed 1080p video and audio data to your monitor. Not only does it go up to 60Hz, but it doesn't have any conversion and bandwidth limitations. It is capable of streaming uncompressed full HD 1080p multimedia content for an enjoyable viewing experience.
Type-C hubs combine all necessary connections into a single reversible port. For example, it will use a Type-C port to connect a laptop to transfer files or just a cable to connect a laptop device. It also supports 5Gps USB 3.1 Gen 1 standard and 1080p dual display output.
Universal containment:
Owlcrate Universal Type-C Docking Station is compatible with macOS, Windows, and Chrome OS laptops. You can install this USB-C port in your home or office, using it as an external monitor and speaker system for music or video. It can also be used as a power bank for other devices.
It's a universal docking station that is compatible with all USB Type-C devices — even the Google Chromebook Pixel 2015. It can turn any single USB-C port laptop into a multi-port docking station, such as connecting up to three external peripherals at a time.
Plug and play:
Everybody knows that a USB port is one of the most useful inventions. The biggest advantage of using a USB type C docking station is that it doesn't need any drivers or a complicated installation process, just plug and play! You will not have to worry about missing driver updates, containment issues, or complicated software installations.
If you buy a cheap docking station, you may need to find the driver on the website and install it yourself. It's probably more annoying than running around the kitchen while you cook, looking for the right size Tupperware.
Expand the connections from a laptop or tablet to adding peripheral devices and displays:
USB-C Hubs technology is very useful, and adding more ports allows for more connections to be made. This was something that was missing from previous generations of USB. Here are some of the advantages of using a dock for your laptop or tablet.
Can quickly connect and disconnect peripheral devices:
Anyone who uses a laptop all day will know the pain of constantly connecting and disconnecting various computer peripherals. There are HDMI adapters, memory card readers, external printers, smartphones, and power banks to consider. By choosing a USB Type C docking station, you can have just one 'dock' to connect everything to instead.
It can connect to the base with a cover, which means a single cable to charge and transmit all the devices. This will reduce the number of wires or ports required, reducing the frustration of charging and transferring data.
Conclusion:
So if you're in the market for a USB-C dock, don't hesitate to look into this one. It does a good job of fulfilling your needs and making things easier for you. If you've tried out other docks and want to know if this one is any better, it's a worthwhile investment.