10 best USB c hubs in 2021? Pros & Cons of usb c Macbook hub
10 best USB c hubs in 2021? Pros & Cons of usb c Macbook hub
I can't say how frustrated I was before buying ipad pro usb c hub. When my wife came home in the evening, she usually blocked 3 sockets for 2 smartphones and a tablet. Fortunately, we now have more than 3 sockets in the apartment. Almost everywhere in the apartment, all the charging stations were now distributed.
Right, it not only looks stupid, it is. It quickly became clear that we wouldn't get very far with a usb c hub best buy in the household. During the day at the home office workstation, in the evening on the sofa, as well as for the kids in the children's room, there should be a USB hub.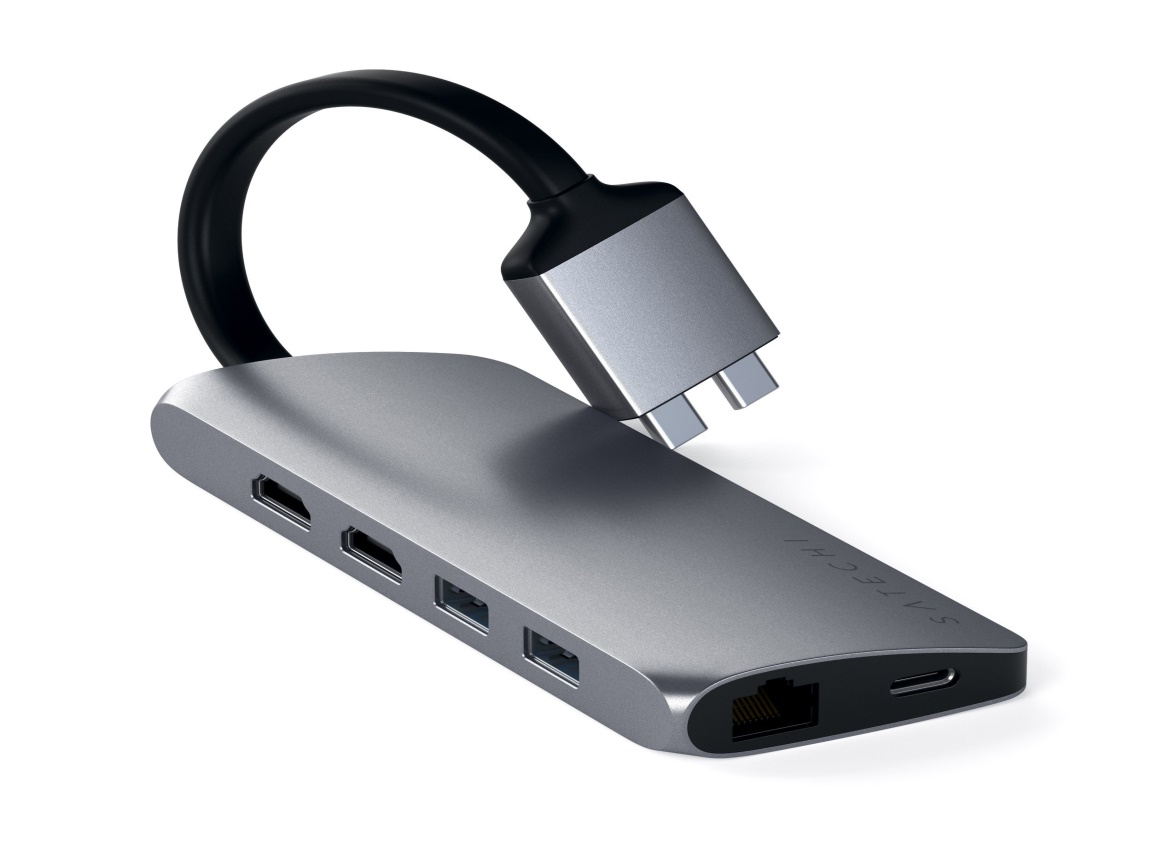 After all, the kids also have smartphones, tablets, notebooks and headsets so that they can follow the online lessons.
What is a usb c hub?
USB c hub means a device that expands a Universal Serial Bus (USB) port into multiple ports and allows those ports to be common simultaneously. The USB hub can be divided into three types, according to the USB protocol it provides, namely:
USB 2.0
USB 3.0
And USB 3.1.
The USB 2.0 hub is backward compatible with USB 1.1 and the theoretical bandwidth can reach up to 480 Mbps.
The USB 3.0 hub is USB 2.0 and 1.1 compatible and the theoretical bandwidth can reach 5 Gbps.
Finally, the USB 3.1 hub supports USB 3.0, 2.0 and 1.1 and the theoretical bandwidth reaches up to 10 Gbps.
Find the best USB hub with 3 questions
Even if the USB multiple plugs are not too expensive, there are a few questions you should ask yourself before buying in order to find the usb c hub best buy.
Which devices do I want to connect?
Check in advance which devices you are connecting or which connection mouse, keyboard, printer etc. have. It depends on whether the USB hub has to have ports for the different types, a micro or mini USB or even an HDMI connection, for example.
Basically, a USB splitter that supports USB 3.0 is recommended, even if many of your devices still use the older 2.0 standard. However, newer devices with USB 3.0 benefit from the maximum speed.
How many devices do I want to connect?
The number of ports on the USB hub also depends on the number of devices. If you want to connect a particularly large number of devices (permanently) to the splitter, a switchable model makes sense. The more devices that are connected, the more important it is to have an active USB hub with its own power supply unit.
In which way we can use a usb hub?
A USB-C hub can also be useful in a variety of circumstances, as it is compatible with all devices with a USB-C port, including tablets and desktop PCs, and often also includes other ports, such as HDMI ports and slots for memory cards.
What is usb c hub adapter?
It is, in a nutshell, an adapter containing several ports, all usable at the same time, but occupying only one computer port. The same thing can also be done by simple usb c hub adapters. They however are equipped with only one port or in any case with fewer ports than hubs and USB-C docks.  They have smooth design but difficult to carry easily.
How to choose a Powered USB-C hub?
A powered USB-C hub is an adapter that is meant to expand the functionality of a single USB Type-C port into several ports, not necessarily USB-C or USB in general. You can find several types with a variable number of ports: some models, in fact, can reach 10 ports, or even more, of different types.
A USB hub can also be integrated into a PC case, and considering the category broadly, the port panel of a printer or keyboard can also be considered a USB hub.
In this buying guide, however, we will focus on external USB-C hubs for desktops, notebooks, tablets and USB-C hubs for MacBooks. Below I leave you some tips and factors to consider when choosing. It will help you to locate the best USB-C hub for your needs.
USB-C, Thunderbolt, features
It is preferable to the traditional USB Type-A for several reasons: in addition to being smaller and, consequently, being installed on very small products, it is perfectly symmetrical. This means that the USB Type-C connector is reversible, meaning it can be inserted from both sides without any problem.
What is the role of numbering in powered usb c hub?
Usually we consider the powered usb c hub standard to be inextricably linked to a speed specification, such as:
the USB 2.0
0 or
1 specification
But this is not true. Although now quite rare, there are in fact devices that have USB Type-C ports compatible with older versions of the protocol.
Be careful, in fact, because the differences between the standards are marked: USB 2.0 reaches a maximum speed of 480 Mbit / s , USB 3.0  (also known as USB 3.1 Gen 1 and USB 3.2 Gen 1 ) reaches the theoretical 5 Gbit / s , USB 3.1 Gen 1 reaches   theoretical 10 Gbit / s and  USB 3.2 Gen 2 × 2  that reaches  theoretical 20 Gbit / s .
Does powered usb c hub support thunderbolt 3 technology?
The USB Type-C port can also support Thunderbolt 3 technology, through which it can manage data transfers up to 40 Gbit / s. Moreover, it supports one or more very high resolution usb c hub displayport monitors (even 4K or 6K) and also charging or powering compatible devices.
Generally, it happens without losing compatibility with older USB technologies. Remember that not all USB Type-C ports are also Thunderbolt 3, a feature that is almost always supported by USB-C on Apple devices.
usb c hub hdmi Ports
The advantage of a wireless usb c hub hdmi Ports is the flexibility in setting up. Thanks to the wireless radio connection between the computer and the hub, you can place the box relatively freely.
Smartphones, scanners and all other devices that are to be charged or connect to the computer are still easy to connect to the USB hub via a cable. Only the connection between PC and hub is wireless.
Prefer Buying Usb C Hubs with Buit-in Cables
So carefully read the description of the Type-C hub you want to buy and, if it is reported that it is only compatible with specific models, it often cannot be connect with other devices as well.
Active and passive USB C hub – know the difference
If we take a closer look, it can be seen that there are two different types of USB C HUBs available.
Active USB-C hub
It is connect with the power supply
It is very powerful thanks to the connection to the mains
Higher consumption of electricity
possibility to recharge a smartphone or smartwatch
equipped with rapid charging function
the active hub always needs an outlet nearby
Passive USB C hub
Allows for greater flexibility
takes power from your computer or laptop
The hyperdrive usb c hub variant you choose depends on your preferences. You should use the USB hub especially if you are doing teleworking or Smart Working.
If you value high performance, you should choose an active hub. It can also be connect to a power supply.
Additionally, a USB-C dock can contain many useful features:
Ethernet connection
Wireless connection
HDMI connector
Bluetooth
Card Reader
In addition, the USB-C hub is easy to connect to the Internet via an Ethernet connection. An HDMI connection can transfer images and audio up to 4K on a USB-C adapter.
Basically, USB 3.1 means you have a lot of freedom. The appliance is easy toe connect from both sides. You should be wondering what devices you want to connect. After all, there are variants that require more than just a USB port. You should also consider if you want to use an HDMI port on the USB-C hub.
What interfaces (connections) is available on USB C hubs?
Some models have only one type of USB-C hub connection, which are additional USB ports. Basically they are just a distributor and allow you to connect multiple devices via USB to a single computer port.
Many usb c to usb c hub devices have other types of connectors, including HDMI, LAN, or a slot for an SD or micro-SD card. Our overview shows you the differences.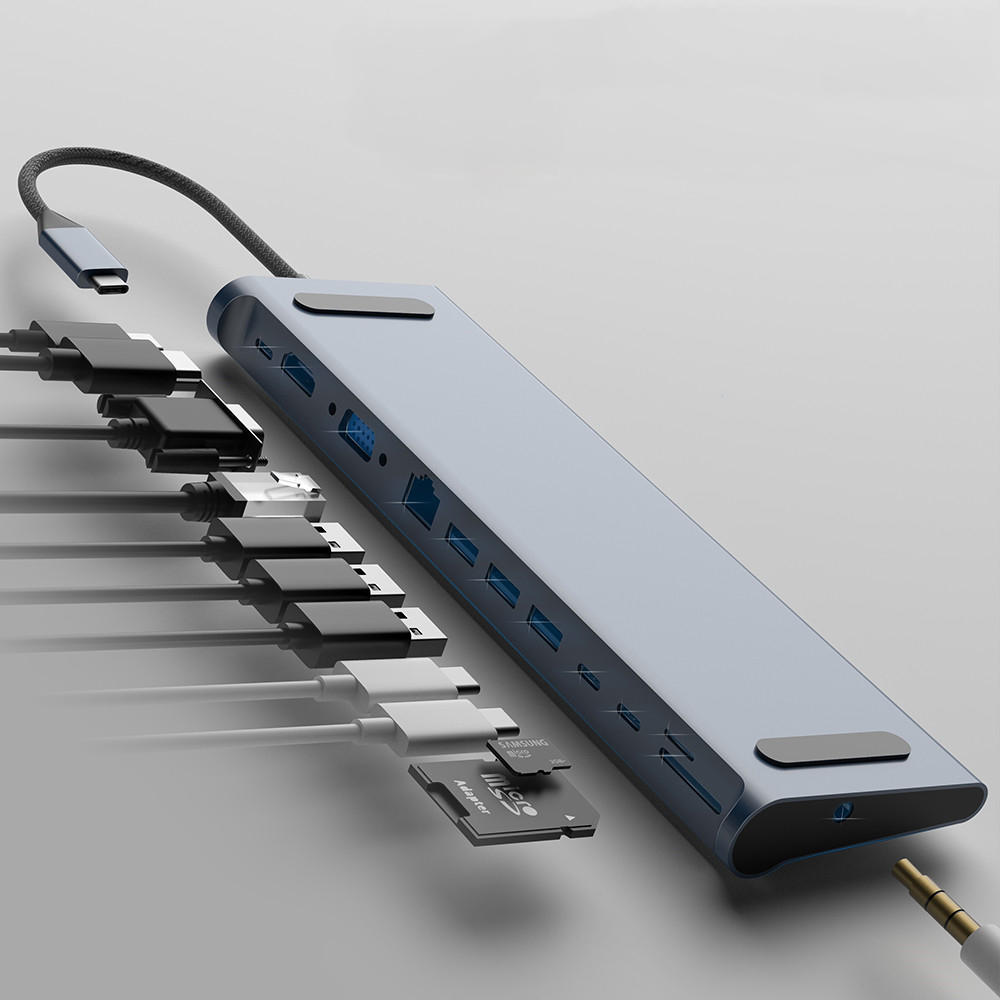 USB C HUB type
mostly 4-7 USB ports for various devices like printer or camera
no more embarrassing repositioning
All can be connect with a single USB cable
USB C hub with HDMI
combines all the advantages of a normal USB hub
additional HDMI port for broadcasting video and audio
allows playback of 4K video via the hub
USB C hub with memory card
often in combination with the HDMI port
allows direct reading from SD cards
Photos and videos can be viewed directly
USB-C 3.1 advantages and disadvantages over previous USB versions
Advantages:
it can be inserted from both sides
USB 3.1 enables significantly higher transfer rates (theoretically up to 10 Gigabits per second)
Charging mobile phones etc. it's faster
Also possible to charge laptops and netbooks (without additional charging cable)
4K videos can be played from an external device
The small size allows for a flatter design for smartphones etc.
Suitable for transmitting video, audio and data
Disadvantages:
Older devices without a USB-C interface can only be connect via an adapter
When replacing the jack plug: an adapter for HiFi systems etc. is must.
USB Power Delivery: Devices with this function can charge tablets
USB Power Delivery, or USB-PD for short, is a specification for charging electronic devices via a USB cable. Until now, only smartphones could be charged via USB. In the future, PD should be able to supply power to laptops as well.
Depending on the usb c to usb c hub device, power supply and cable, some devices may charge, albeit slowly. For everything to work smoothly, you need an active USB cable with electronics in the plug, so that more than 3 amps of current can be passed through. Only in this way is it possible to reload effectively and quickly.
For example, if your Apple USB C Hub offers PD, make sure you have a compatible C cable to take full advantage of the charging capabilities of your USB C Charging Hub.
USB Battery Charging
USB Battery Charging, or USB BC for short, is a mode that guarantees the charging of smartphones and tablets via USB.
If the connector is marked BC, it provides 1.5 amps per port, which is sufficient for slow charging of devices. So if you want to be able to charge your mobile devices via a hub, you need a USB C hub with a charging function – so pay attention to this!
What is actually a docking station?
Classic desktop PCs are very common these days and we need modern equipment for this too. A universal USB 3.0 docking station has appeared being a popular tool. .
USB C HUB and docking station: what are the differences?
USB-C Adapter A "classic" USB C hub is a distributor. This allows you to create multiple USB ports from a single USB connection. For example, a USB C hub can have seven additional USB ports, so you can connect seven devices to your laptop.
The Advantage of Docking Station
On the other hand, the advantage of a docking station is the ability to use the notebook even when it is completely closed. Display on an external monitor and operation via a keyboard and mouse are still possible. All peripheral devices can be connecting to the dock.
For mobile use, the handset is usually released via a mechanical switch, with which the device is completely disconnect from the connect periphery.
Another advantage of a usb c charging hub docking station is that the battery is charged when needed, no additional power supply is needed for the notebook. Unfortunately, only a few lines of commercial models have docking stations.
Are all USB hubs downward compatible?
Generally, all usb c charging hub ports are backwards compatible. However, you need the appropriate adapter if you want to connect, for example, a USB 2.0 Type A connector to a USB 3.0 Type C.
Note, however, that the transfer speed always starts from the lower port. In our example, the data is then transmitted via USB 2.0 – i.e. with around 0.5 Gbit / s.
In these cases, you often get a system message indicating that the device may be working better. The scenario occurs, for example, if you connect a USB 3 keyboard to a USB 2 port.
The best USB hubs for the home office in 2021
With a USB hub, all devices can finally be charged from one central location. Whether smartphone, tablet, notebook, headset, even webcams can be operated with it. It is of course important that the USB charging station has the correct connections.
During my research, I was irritated by the fact that many large media portals only recommend USB hubs with USB-A / B connections instead of including the USB-C.
I was looking for exactly the same USB charging stations with USB-A and USB-B connections for the home office, but also for the whole family.
Best USB-C hub (under $ 50)
aukey usb c hub 4 ports
Despite its compact size, the aukey usb c hub has seven ports for connecting peripheral devices to a computer. The device is distinguished by the presence of current protection, which protects it from overload and guarantees stable operation in any conditions.
Other features of the hub include a high data transfer rate of 5 Gbps. This enables fast exchange of large files. The long cable allows you to place the hub in a convenient location. When connecting the power supply, it becomes possible to charge the batteries of portable devices.
Advantages:
A large number of outputs;
Fast data exchange;
Cable length 60 cm;
Overcurrent protection of ports;
Low price.
Flaws:
Degradation of performance at high load.
Aukey usb c hub is suitable for simultaneous operation with a large number of devices. It can be common both for quick exchange of documents or files, and for charging mobile equipment.
Hootoo usb c hub
Many notebooks only have USB-C ports. Even HDMI connections are often no longer available. The HooToo USB-C hub has both an HDMI connection and many other connections.
These include an SD 3.0 and a micro SD slot, two USB 3.0 ports, with a speed of up to 5 Gbit per second, in order to be able to transfer large files and videos in seconds.
A USB 2.0 connection for keyboard and mouse and a 1 Gigabit Ethernet connection are also included.
The latter can be common, for example, to ensure a stable connection during video conferences or to be able to transfer data more quickly. Especially useful in conjunction with a PowerLine.
vava usb c hub
The body of the vava usb c hub is made of aluminum alloy and coated with industrial paint. It is shock- or scratch-resistant, so it is not afraid of accidental drops. Thanks to non-slip feet and stiffening ribs, the device is stable on any surface and lies securely in the hand.
The number of ports is 13, the throughput is up to 5 Gbps. The concentrator comes with ventilation holes for air cooling of the main working elements during operation. The length of the data transmission cable is 1 meter, which allows you to place the hub in any convenient place.
Advantages:
overvoltage protection;
a large number of connectors;
durable body;
long cable;
cooling system.
Flaws:
Apple usb c hub
The Apple usb c hub has four independent ports and the ability to connect an additional 5V power supply to provide enough power to handle heavy loads. Thanks to the support of OTG technology, the device can be common to connect devices with additional equipment.
The maximum throughput of the hub is 480 Mbit / s, the dimensions are 22x32x77 mm. Thanks to the LED indicator on the housing of the hub, and the user always has access to information about the status of the device.
Advantages:
heat resistance;
protection against power surges;
Plug & Play technology;
Power LED indicator;
USB OnTheGo support.
Flaws:
Apple usb c hub is compatible with a wide range of portable devices and all modern operating systems. It is suitable both for data exchange and for charging demanding consumers.
Dell usb c hub
Dell usb c hub has five USB 3.1 Gen 1 ports, including two USB-A ports and one USB-C port. There is a Gigabit Ethernet port for connecting to the network. There is a function of connecting to the HDMI port with support for resolutions up to 4K. And these are not all the advantages of the OWC USB-C Dock. This hub has two more ports – line-in and line-out of the audio subsystem.
Satechi usb c hub
Fast and very easy to use, the Satechi usb c hub does not require additional software installation. The hub is connect with a USB-C connector to a laptop, after which you can start working.
The Satechi Type-C 3-in-1 is a godsend for those with a MacBook 12 that only has one USB-C input. The hub has two USB 3.0 ports and slots for SD, micro-SD cards. Aluminum body and full Apple design.
Anker usb c hub
With the 7-in-1 USB-C hub, Anker has bundled all connections in one USB hub. Equipped with 2 USB 3.0 ports, 2 USB-A data ports, an HDMI port, 1 Micro-SD and an SD slot, the Anker USB-C hub offers everything you need to connect monitors, storage media, smartphones and To charge tablets.
Mac usb c hub
Mac usb c hub has several connectivity options: two USB 3.0 ports, an SD card reader and 1 USB-C port. What's more, the Minix Neo-C has a battery charger function. But the most important plus of the hub is the HDMI port, which allows transmission of high-definition digital video data.
iPad pro usb c hub
If you are looking for a USB-C hub to use with your iPad Pro), you can consider this model that applies directly to the tablet and allows it to be transported without occupying too much space.
It features a USB 3.0 port, an HDMI to 4K port, two microSD / SD card readers and a 3.55mm audio jack. In addition, it comes with a USB Type-C port with Power Delivery function.
It is also compatible with other devices, such as MacBook Pro, MacBook Air, Microsoft Surface Go, Samsung Galaxy S20, and several others.
Dodowin USB-C Hub
Among the best ipad pro usb c hub and MacBook Air that I would like to recommend there is also the one produced by dodowin.
The main and, perhaps, the only drawback of the MacBook 12 "was and remains the lack of ports. Fortunately, this problem we can easily resolve using a USB hub. Let's take a look at some of the ones offered on the market.
HyperDrive usb c hub 5-in-1
The Hub greatly expands the capabilities of your MacBook. HyperDrive 5-in 1 can be common as a charger not only for a laptop, but also for a mobile phone. It has 2 USB 3.0 ports, SDXC port and SDXC mirco. Fully in harmony with Apple design.
Which USB Hub is better to buy?
A distinction is made between passive and active USB hubs. Hubs of the first type are connect directly to the computer; therefore they occupy one of the available connectors. Active devices are more expensive, but can be powered externally, which reduces the chance of a drop in data rate under high load.
Check the usb c hub hdmi cable length
Another important selection factor is cable length. The convenience of connecting and placing the hub in the workspace depends on it. We also recommend taking into account the peculiarities of the computer network and the location of peripheral devices.
For comfortable use of the concentrator on a regular basis, we advise you to pay attention to the models that have their own fastening elements.
The types of outputs supported by the device should be determined:
The model's operation as a splitter will require USB 2.0 or 3.0 ports.
A slot for a memory card may need by active users of cameras or other digital equipment to quickly transfer files to a computer.
A microUSB connector is very important to connect the hub to a smartphone.
The speed of the device is affected by the length of the cable common. Direct-wired hubs provide minimal performance loss, but can be inconvenient for quick access or connection to a large number of instruments.
Best USB 2.0 hubs
Models of this type are distinguished by their affordable cost and relatively low data exchange rate. They are easy to equip with cables up to 5 meters long and are resistant to losses during operation.
Best Macbook usb c hub in 2021
Macbook usb c hub includes a power supply along with a splitter and a cable. Thanks to it, the user is able to charge the batteries of third-party devices even when the computer is turned off.
The number of ports is 4, the cable length is 150 mm. The body of the device is made of ABS plastic, which makes the hub lightweight and durable. The data transfer rate is 480 Mbps. This makes it possible to exchange large files in a matter of seconds.
Advantages:
durable body;
passive charging;
compactness;
high throughput;
low price.
Flaws:
Macbook usb c hub is compatible with Windows, Mac OS and Linux operating systems. It is an affordable and reliable solution for connecting a variety of devices.
Is it good to buy customizable usb power hub?
If you buy a USB hub that is capable of adding more ports but doesn't work when it comes to handling an extra load of devices, this isn't much use. So perhaps gathering some previous information from user reviews about their durability and performance might not be a bad idea.
Keep in mind that some devices overheat extremely easily and can break without real pressure.
How to power up the USB hub?
"Passive" USB hubs get power by simply plugging the USB cable into a free port on a device that powers (PC, laptop, printer, etc.). "Active" USB hubs come with an adapter that plugs into an electrical outlet.
How does a USB hub work?
The USB hub simply replicates a USB port on a device called a "host" (a PC, laptop, printer, and so on) into a variable number depending on how many it offers. The USB bus divides the available bandwidth into frames and the host controls those frames. Frames contain 1,500 bytes and a new frame begins every millisecond.
While processing a frame, the devices connect to the USB hub get a "slot" to ensure that the bandwidth they need is guaranteed. After 90% of the bandwidth is exhausted, the host denies access to any other devices connect to the hub. Generally it is the chip integrated in the hub that divides the bandwidth equally to all the ports that the hub makes available.
How to use a USB hub?
The Universal Serial Bus (USB) port is the most common connector for laptops, desktops, smartphones, and many other devices. Born with the aim of "one door to dominate them all", the connector is comfortable and versatile.
Many peripheral devices use hyperdrive usb c hub to connect with laptops. But as these laptops have gotten thinner and thinner, we are faced with a shortage of USB ports. This is why you need to consider purchasing a USB hub to extend the number of ports available.
How to connect via multiple ports?
A USB hub is a device that expands a single USB into multiple ports so you can connect multiple compatible devices to your computer. By cascading many hubs together, you can create a hierarchy of USB devices on a single port.
One of the other uses that is easy to do with a latest generation USB hub is to simultaneously charge several devices with this interface. A powered model is important for this. It can often be found under the term "USB charging hub".
USB is becoming truly universal
USB is already very widespread. The role of USB-C is to make this connector as universal as the name suggests (USB stands for Universal Serial Bus). Everything can pass via USB Type-C: image, sound, data, current, all existing connectors are easy to replace by USB-C.
usb c charging hub
Charging: usb c charging hub is capable of passing current up to 100W, whereas USB 3.0 is limited to 4.5W (2.5W for USB 2.0). This means that not only can devices like USB-C smartphones be charged much faster, but it is also possible to charge devices that are much more power hungry.
Thus, Apple abandoned the famous Magsafe connector in favor of macbook usb c hub and MacBook Pro at the end of 2016. Google quickly followed suit with its Chromebook.
This function, called Power Delivery, also has the advantage of being reversible. Clearly, you can charge your computer with its USB-C cable and with this same cable.  You can charge your USB-C smartphone using your computer.
Data transfer via usb c to usb c hub
Data transfer: initial functionality of USB, the speed of data transfer has steadily improved since the first version of USB. The standard has also gradually supplanted all the other standards present before (serial port, PS / 2, parallel port, etc.) With the support of USB 3.1, the speed reaches 10 Gbit / s.
Audio and video stream
Video and audio stream transfer: USB-C has a new function called Alternate Mode. This allows the USB-C cable to act as a video cable. Using an adapter, a computer equipped with USB-C can thus be easily connect to an HDMI, VGA, DVI, usb c hub displayport monitor for example.
What USB-C and Thunderbolt 3 accessories for my Mac?
USB-C to USB 3.0 Adapter
This is probably the essential adapter for your Mac, since it will allow you to plug your "old" USB devices into your Mac equipped with USB-C or Thunderbolt 3.
Tips for Buying a USB Hub
Here are a few more tips that can help you when buying a USB hub.
Tip: shorter USB cables
If you decide to buy a USB hub, you should perhaps also think about buying shorter cables. Nothing is worse than a tangled desk.
Tip: the right connections
Think about which connections you actually need. Are USB-A ports sufficient, or are HDMI ports and USB-C ports needed to cover all the needs of daily work.
Tip: USB ports are easy to switch on and off individually
I have connected my webcam and microphone to a USB hub, with which I can switch the individual USB ports of the USB hub on and off individually.
Compact interface distributors: the best USB hubs
Connect the computer with a mouse, keyboard and several monitors and at the same time charge the MP3 player via the PC – USB connections make this very easy. However, computers and laptops quickly reach their limits in terms of the available ports. A USB hub is the solution: it works like a distributor. In addition to the number of available slots, the transmission speed and the power supply are important purchase criteria.
USB distributor in the test: you should pay attention to this
Hardly any device today can do without a USB interface. Connect multiple devices with each other, exchange data and charge MP3 players or smartphones – all of this works via the standard interface that is available on both Windows and Apple devices such as the Mac.
To expand the number of slots on a device, USB splitters are the ideal solution. In terms of price, the distributors start at less than 10 euros, USB hubs with a larger range of functions usually cost between 20 and 50 euros. What to look out for when comparing models from Hama, Anker, Belkin and Co.:
Number of slots (ports)
USB to usb c hubs start with two ports, although you haven't gained much with such mini hubs. Most of the USB splitters we tested had between 4 and 10 ports. There are also multiple plugs which, in addition to USB ports for the different types (A, B and C), also have HDMI slots and micro-USB ports.
Good distributors also have a quick charging port – for example, smartphones are easy to charge very quickly via the splitter.
Check Transmission speed of usb c hub displayport
There are different generations of usb c hub displayport interfaces. USB 2.0 as well as 3.0 and 3.1 are common. The number provides information about the maximum data transfer rates: USB 2.0 comes up to 480 Mbit / s, USB 3.0 up to 5 Gbit / s and 3.1 even up to 10 Gbit / s.
Important: Devices with USB 3.0 are downward compatible, but plug the device into a USB multiple plug with USB 2.0, but only the slower transfer rate is achieved.
What is powered usb c hub?
USB splitters are available with their own power supply unit or without an extra power supply. These distributors then draw power from the output device. We are also talking about active and passive USB hubs.
Individual ports can be switched
Especially with USB splitters with a large number of ports, switches for (de) activating individual ports can be useful. In this way, you can disconnect two devices without having to remove the USB plug from the USB multiple plug each time. On most hubs, LED lights indicate which devices are currently active.
Additional functions and equipment
Some USB hubs have an SD card slot with which you can read data from an SD card. An SSD or HDD adapter enables the installation of an additional hard disk. With the OTG function, you can send data directly from a smartphone or camera to a printer without having to first cache it on the computer.
Tip: Powered usb c hub usually work without any major installation effort on any device. However, some functions are only available after installing the appropriate driver. If you search for Generic USB Hub Driver online, you will find free software that works with most USB hubs.
Where to buy Best USB C Hubs?
There are many USB-C adapters available for you on szlangpai. Get the finest quality USB C Hubs to connect your various peripherals to your Mac. You will find adapters allowing you to connect a monitor (HDMI 4K, VGA, DVI), an Ethernet cable, USB, while charging your MacBook or your MacBook Pro.