Best Features of the HRY-Z01 Docking Station
What is worth knowing about HRY-Z01?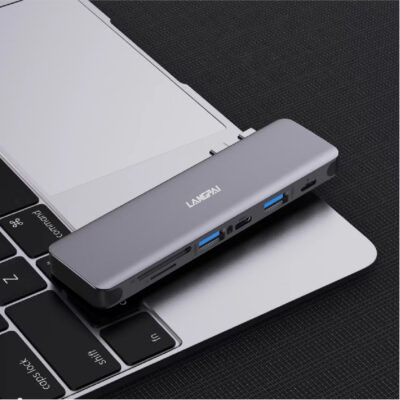 Whether laptop thunderbolt docking station with USB C or laptop docking station universal: For those who have never common a docking station for laptops or want to know more about it, we now answer important questions on this topic. You can read the answers and our tips here:
5.1. What is the use of a docking station?
A laptop docking station is there so that you can connect and power your laptop to many other devices and monitors.
This prevents the individual cables from lying in a tangle on your desk and causing clutter.
5.2. Can I fold a laptop on the docking station?
Many people ask: can I close the laptop despite the docking station? Since many laptops then go into sleep mode or shut down, it doesn't always make sense.
If other devices are connected or data is being transferred, this process would normally be interrupted. You should therefore close the laptop on the thunderbolt docking station as soon as it is no longer needed by the other devices.
5.3. Are there laptop docking stations for two monitors?
There is also a laptop docking station for two screens. This is particularly useful in everyday life, when playing on the PC and when doing office work. This means that you can use the DVI and HDMI ports, for example.
An alternative is a USB to HDMI adapter. You can also connect the monitors or share the image of the monitor.
The laptop docking station must be suitable for using the DVI and HDMI ports at the same time. It must also be a laptop docking station for screens.
5.4. Is there an official laptop docking station review?
Whether HP laptop docking station, Lenovo laptop docking station, or Dell laptop docking station: If you would like more information on specific models or brands, you can take a look at laptop docking station reviews on the Internet.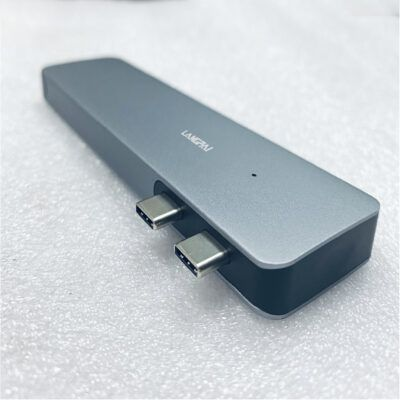 The institute only reported thunderbolt docking stations for smartphones. You should therefore use our table from the comparison of laptop docking stations as a guide. The laptop docking station test winners presented there to score with very good quality and many advantages over other models. To find the best laptop docking station 2021 for you.
Introduction about thunderbolt docking station
Owners of a small and light laptop today all too often suffer from a lack of connections. Fortunately, the USB-C interface present on many of those devices offers a solution. We test 24 docks and adapters that expand your connection options.
Laptops have become considerably thinner and lighter in recent years while computing power has increased. We can, of course, only applaud this development. Yet with modern systems, you often go backward on one point: the number of connections.
To make the machine as thin as possible, manufacturers are increasingly removing connectors from the side. Previously, large or old connections such as Ethernet and VGA have expired, now even 'normal' USB type-a ports must make do.
Alternative Mode of the thunderbolt docking station
If you recently bought a new laptop, there is a good chance that it has at least one USB type-c connection. The new plug has the interesting option of passing on other protocols in addition to USB – also known as Alternate Mode. As a result, there are now many thunderbolt docking stations and adapters for sale, with which you can regain the lost connections via one cable.
For this article, we have collected 24 docks and adapters with which you can use the extra connection options of a USB-C connection. From very small and simple adapters, which you can use to add an extra display output or USB port to your notebook on the go.
too large and heavy desk docks, which transform your mobile machine into the heart of a complete desk setup – including several screens, speakers or headphones, wired network connection, and various USB devices.
Check system specs before buying docking station
Before you run to the store to purchase a thunderbolt docking station, it's a good idea to check your system's specs. Just a type-c port is not enough: many cheaper machines have a connection that does not support Alternate Modes or charging. Unfortunately, you can't immediately see which modes it has at the gate.
Sometimes there is an inscription at the connection to show the possibilities, for example, a DisplayPort or Thunderbolt logo.
In addition to a suitable port, hardware or OS can also cause difficulties. For example, to connect multiple screens via USB type-c (without Thunderbolt), Display port Multi-Stream Transport support is necessary. Most modern video chips and OSes have it, but macOS doesn't. If you are a Mac user, you can only clone the multi-screen display unless you buy a Thunderbolt dock.
Data flow with latest szlangpai docking stations
Several Alternate Modes can run over a USB-C cable. For example, a dock or adapter via DisplayPort Alternate Mode can offer image connections where the signal comes directly from the connected PC.
There is no compression and no noticeable input lag occurs because the signal does not need to be converted anywhere. So a display connected to the thunderbolt docking station works as if it were connected directly to your system.
Such an alternative model is also available for HDMI, with the caveat that you are then limited to HDMI 1.4. Incidentally, in this test, we also see adapters that integrate an HDMI or VGA converter to be able to offer such connections.
Signals can still be transmitted simultaneously
A handy feature of Alternate Mode is that USB 3.0 signals can still be transmitted simultaneously. That way, a dock can also provide high-speed USB ports and network and audio connections. However, the bandwidth of the USB-C cable is not infinite.
In general, the docks in this test use two of the four high-speed data lanes of the USB-c connector for DisplayPort. Such a connection is only sufficient for 4K images at 30 Hz. If you want a 4K image at the usual 60 Hz, it will consume all the bandwidth that allocate to USB 3.0 or Alt Mode signals. As we'll see, most thunderbolt docking stations don't support that either.
Conclusion
For copies that do offer 4K at 60 Hz, the USB ports must use the USB 2.0 connection, which is still common as a backup. available in the USB-C connector. This does not benefit the throughput speed.