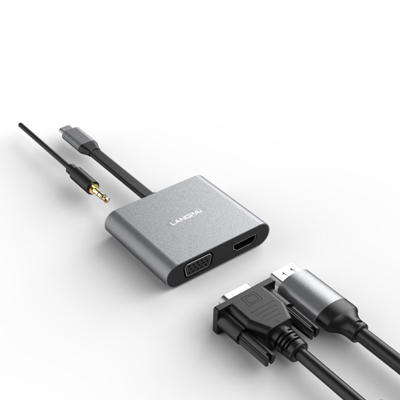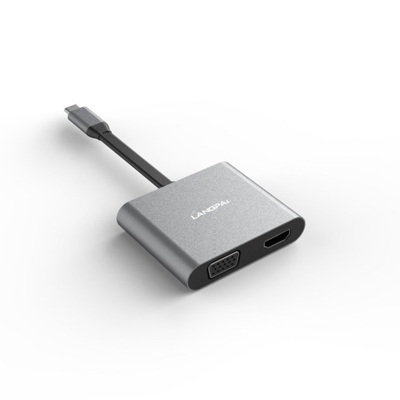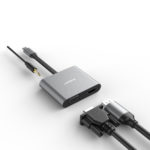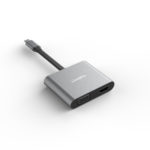 HRY-207
3 in 1 USB Type-C to HDMI Adapter, with VGA output.
Durable & stylish die-cast aluminium alloy housing
HDMI port provides Max 3840×2160@30Hz 4K video output
VGA port provides Max 1920×1080@60Hz 1080P video output
Thin and compact, easy to carry along when travelling
Works on every PC, laptop or MacBook with a USB Type-C port (DP Alt Mode)
Plug-in and go, no additional power adapter or software needed

Logistics delivery (estimated): 4-7 days
HRY-207 is cost effective 3 in 1 USB hub with 4K HDMI adapter and VGA output. The characteristic property of display simultaneously makes it turn your PC, laptop, MacBook, etc., into a complete workstation with a DisplayPort. It supports super display switchable function. This increases the efficiency and multitasking capacity since it can connect three displays at the same time.
Product Description:
HRY-207 is available with an aluminium coating. Aluminium has lightweight and protects against rust and other irritants. So, its coating increases the durability of HRY-207.
It has a 3.2 Gen 1 USB port which helps transfer data at a speed of 5 GB per second.
Another factor that makes it a sound device is charging other devices since it supports 100 W power. Moreover, it can also transfer data by connecting an integrated cable.
HRY-207 also supports Nintendo Switch. So, you can play your favorite video game and have fun.
This device gives ultra -HD 4K Output and to extend the screen screens. It also supports MST and SST.
If you have a type -C USB port (DP Alt Mode), you can easily connect your PC, laptop, MacBook, etc.
Features:
HRY-207 hasa USB adapter and an adapter with HDMI which provides Max 3840×2160@30Hz 4K video output 4K/ 30Hz output.
HRY-207 contains one SD card reader and a micro-SD reader slot compatible with Micro SD TF / Micro SDXC / Micro SDHC / UHS-I etc.
Another vital feature of HRY-207 is connecting itto an HD display or projector using a VGA port which provides Max 1920×1080@60Hz 1080P video output.
It delivers a power output of 100W, which can be used to recharge your other Type-C devices (Mobile phones, power banks, thunderbolt-3 MacBook, etc.) by connecting with it.
Specifications:
HRY-207 is compatible with thunderbolt 3type C devices like MacBook and PC.
HRY-207 has a dimensions of 8 x 53.4 x 14mm / 25.5 x 21 x 5.5 inches (L*W*H).
It has USB port that can transfer 5 GB of data per second. This also provides quick access to external storage devices.
This also supports one 4K HDMI video outputs to watch the video of ultra -HD quality. This can be extended to display your screen to projectors, monitors, or HDTVs.
HRY-207 contains one SD slot that is compatible with SDXC / SDHC / SD / MMC. Also, it has one micro SD / TF Slot compatible with Micro SD / TF / Micro SDXC / Micro SDHC/ UHS-I, etc.
It has a VG output slot that can be connected with an HD display or projectors. This makes it more convenient. It is pretty helpful in presentations and business meetings.
One more beneficial aspect is that data like videos, pictures, etc., can be easily transferred with the help of an integrated Type -C cable.
It also supports Ethernet connections, which are more reliable and consistent than other internet connections. You can connect the router to your USB adapter and can enjoy good quality internet signals. Since it supports 1GB / 100Mbps / 10Mbps.
| | |
| --- | --- |
| Name | Specification |
| Model No. | HRY-207 (3 in 1 USB-C Hub) |
| Connector Type | Type-C, Thunderbolt 3 Compatible |
| 1 x VGA Output | Connect with the projector or HD display through the VGA port. It is more convenience for meetings and offices. |
| 1 x 4K HDMI Video Output | Mirror or extend your screen to HDTVs, monitors, or projectors for a stunning Ultra-HD experience. |
| 1 x 3.5mm earphone jack | Connected to headphone, speaker or other audio devices, to enjoy your music. |
| Dimension | 64.8 x 53.4 x 14mm / 25.5 x 21 x 5.5 inches (L*W*H) |
Contact Us
We will replay within 24 hours
Address
Building A7, Yintian Industrial Zone, Xixiang Town, Bao'an District, Shenzhen, China
Say Hello
sales@szlangpai.com