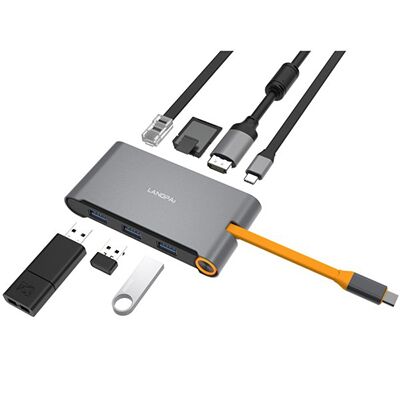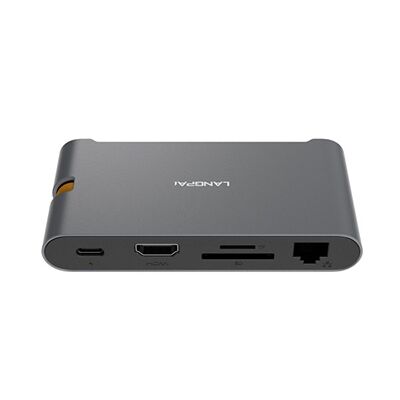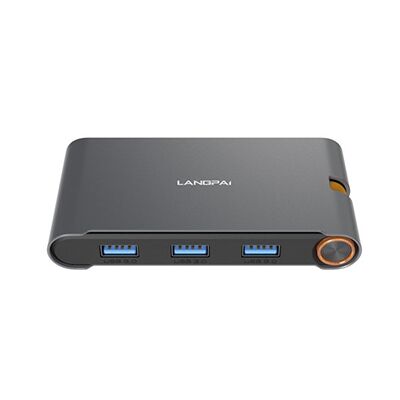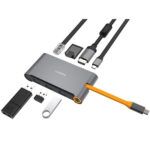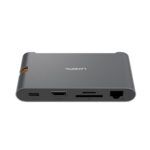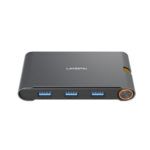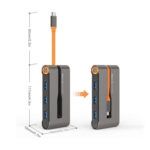 HRY-202
8 In 1 USB Type C Hub Adapter, With Ethernet Port, 4K USB C to HDMI, 3 USB 3.0 Ports, Micro/SD Card Reader, 100W USB-C PD Fast Charge, Portable for Macbook, type C Smartphone and laptops.
Durable & stylish die-cast aluminium alloy housing
Data transfer, video and Power Delivery via one integrated Type-C cable
Supports up to 5 Gbps data transfer speed, using USB 3.2 Gen 1
Thin and compact, easy to carry along when travelling
Works on every PC, laptop or MacBook with a USB Type-C port (DP Alt Mode)
Plug-in and go, no additional power adapter or software needed

Logistics delivery (estimated): 4-7 days
Features
Aluminum + Plastic Housing
With Storage Cable
3pcs USB3.0 5Gb/s
1pc HDMI 4K/30Hz Output
1pc SD Card reader
1pc Mirco Card reader
PD 100W
RJ45 1000MB Ethernet
HRY-202 is 8 in 1 USB Type-C Hub adapter. It is thin, compact, and can be carried easily during traveling. It supports the transfer of data at a good speed. Data includes videos and images etc. This can be done by connecting it with an integrated type C-cable. It can work on every PC, laptop, or MacBook with a USB Type-C port (DP Alt Mode). Good power delivery makes it charge faster. It has an ethernet port which can help to create good connections.
Product Description:
HRY-202 is made by using aluminum-coated alloy, which makes it very stylish. This coating increases the durability of HRY-202 because of its resistance property.
It supports data transfer at a speed of 5 GB per second by using a 3.2 Gen 1 USB port.
Another factor that makes it a sound device is charging other devices since it supports 100 W power. Moreover, it can also transfer data, including videos and pictures, by using an integrated cable.
It doesn't need an adapter and software to get downloaded. This makes it's working easy and more efficient. You are ready because you need to plug in your device.
It is small in size and is portable.
You can easily connect your PC, laptop or MacBook, etc. if you have a type -C USB port (DP Alt Mode)
Features:
HRY-202 has a USB adapter with 8 in 1 USB-C Hub. A coating of aluminum and plastic protects it.
This device has an adapter with one 4K HDMI /30 Hz video output.
HRY-202 also contains a storage cable. Moreover, it comes with three 3-USB ports with a speed rate of 5 GB/s.
HRY-202 also has one SD card and a micro-card reader.
It delivers a power output of 100W, which helps recharge other type-C devices (Mobile phones, power banks, thunderbolt-3 MacBook, etc.)by connecting with it.
HRY-202 has RJ45 1000 MB ethernet.
Specifications:
HRY-202 is 8 in 1 USB -C Hub adapter. It is compatible with thunderbolt 3type C devices like MacBook and PC etc.
HRY-202 has a dimensions of 111 x 55 x 18 mm / 43.7 x 21.7 x 7.1 inches (L*W*H).
Data transferring is possible at a speed of 5 GB per second as it has three 3.0 USB ports. This also provides quick access to external storage devices. It also makes sure that you can use all your favorite devices like a camera, keyboard, mouse, hard driver, camera, etc.
HRY-202 has K HDMI video output that can change your screen to HDTVs, monitors, or projectors for a stunning Ultra-HD experience. This Multi-Port USB C Adapter can connect your type-c device to an external 4K monitor at 30 Hz via the 4K HDMI port. If your type-C device supports 4K, you can enjoy the big, beautiful, high-resolution displays simply by connecting an HDMI cable.
HRY-201 also supports Ethernet connections, which are more reliable and consistent than other internet connections. Since it supports 1GB / 100Mbps / 10Mbps RJ45 LAN.
HRY-202 contains one SD card that is Compatible with SDXC / SDHC / SD / MMC.
Moreover, it also has one Micro SD / TF Slot found Compatible with Micro SD / TF / Micro SDXC / Micro SDHC, etc.
HRY-202 comes with an ethernet port and also a storage cable.
| | |
| --- | --- |
| Model No. | HRY-202 (8 in 1 USB-C Hub) |
| Connector Type | Type-C, Thunderbolt 3 Compatible |
| 3 x USB 3.0 Port | Data transfer rates of up to 5Gbps, for quickly access to external storage devices. Ensure you're able to use all of your favorite devices! Such as camera, keyboard, mouse, hard driver, camera, and etc. |
| 1 x Power Delivery Input | With the included pass-through PD 100W fast charging ports, you can charge your Type-C device easily while using the other included outlets. Such as Macbook (Thunderbolt 3), mobile phone, power bank, small fans, desk lamps, and etc. |
| 1 x RJ45 Ethernet | Support 1000Mbps / 100Mbps / 10Mbps RJ45 LAN. |
| 1 x 4K HDMI Video Output | Mirror or extend your screen to HDTVs, monitors, or projectors for a stunning Ultra-HD experience. This Multi-Port USB C Adapter can connect your type-c device to an external 4K monitor at 30hz via the 4K HDMI port. If your type-C device supports 4K, you can enjoy the big, beautiful, and high-resolution displays by simply connecting an HDMI cable from your Multi-Port Adapter to a 4K monitor. |
| 1 x SD Slot | Compatible with SDXC / SDHC / SD / MMC |
| 1 x Micro SD / TF Slot | Compatible with Micro SD / TF / Micro SDXC / Micro SDHC / UHS-I |
| Dimension | 111 x 55 x 18 mm / 43.7 x 21.7 x 7.1 inches (L*W*H) |
Contact Us
We will replay within 24 hours
Address
Building A7, Yintian Industrial Zone, Xixiang Town, Bao'an District, Shenzhen, China
Say Hello
sales@szlangpai.com