Best Mechanical Keyboard Brands: Szlangpai Keyboards
About Szlangpai Mechanical Keyboards:
To begin with, Szlangpai Mechanical Keyboards are compatible with all kinds of equipment. At the same time, its keyboards are a brand that can be found in many types of stores. They are very popular among gamers who want to improve their gaming experience. Whatever, it's also known for making high-quality mechanical keyboards that are compatible with all kinds of equipment.
What's more, it's a premium mechanical keyboard brand that combines the beauty of design with the functionality of use. Whatever, its products are compatible with all kinds of equipment, including computers, laptops, and even smartphones.
In addition, their products are made from high-quality materials such as aluminum alloy, stainless steel, and ABS plastic. This company also offers unique designs that make your typing experience more enjoyable than ever before.
Be Familiar with the Szlangpai Mechanical Keyboards:
Mechanical Switches:
This is the most popular type of switch in a mechanical keyboard and is what most people think about when they hear "mechanical." Each key has a spring-loaded stem, which moves up and down when you press down on it.
When you let go, the spring pushes it back up again. Mechanical switches are more durable and last longer than other types of keyboards. They also offer superior tactile feedback, so you know exactly when to let go of each keystroke.
It's a mechanical keyboard with a classic design. That has three connection modes, supports all kinds of equipment, and has a carbon steel plate.
Meanwhile, this K3 has an aluminum alloy body with a carbon steel plate and double-shot injection keycaps with legends printed on them. It has RGB backlighting, but it can't be controlled directly through software like other RGB keyboards. Instead, you need to connect it via USB or Bluetooth to access its lighting features.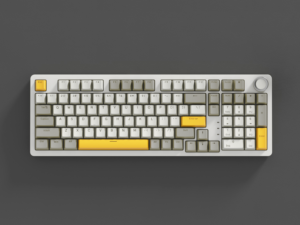 Likewise, the keyboard supports three connection modes: USB mode, Bluetooth mode, and wireless mode (compatible with iOS devices). However, only one mode can be used at once.
For instance, there are only two USB ports on the keyboard itself (one for charging). And one Bluetooth port on each side of the device. So you won't be able to use both simultaneously if you wanted to connect two devices at once like your PC and phone or tablet.
This keyboard is designed to meet the needs of gamers and typists alike, thanks to its 2-block key layout that provides more space between each key than standard keyboards.
Similarly, it features a durable ABS plastic body with a metal backplate that gives it a solid feel and makes it resistant to accidental drops. At the same time, it also features LED backlighting that allows you to choose from 16 million colors and 256 brightness levels, so you can match your style or mood.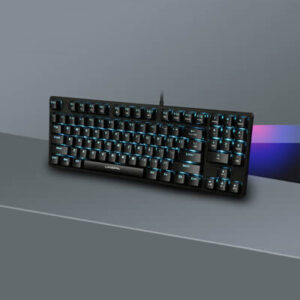 The keys are made from PBT material which gives them more durability than regular ABS plastic keys and ensures they never lose their shape or shine after prolonged use. This keyboard comes with Cherry MX Red switches which are quieter than other types of switches because they do not click when pressed down. This makes them ideal for typing as well as gaming since they won't distract other people around you while you're playing games at night.
These switches also require less force to press down compared to other types of switches like Cherry MX Blue or Brown which makes them easier to use for long periods without causing fatigue in your hands or wrists. However, they are not as tactile as Blue or Brown switches so some.
Advantages of Szlangpai Mechanical Keyboards:
High-quality build:
The first advantage of these keyboards is their high-quality build. They come with an aluminum alloy frame that makes them durable and sturdy. The aluminum alloy frame also makes the keyboard lightweight so you can carry it easily while traveling or gaming on your laptop or desktop PC.
The keys are made up of ABS plastic material which makes them hard-wearing and durable as well. These keyboards have been designed to last longer than other types of keyboards available in the market today.
Compatibility:
Another advantage of using these kinds of keyboards is that they are compatible with all devices such as desktop PCs/laptops, tablets, and smartphones, etc. There are no drivers required for these
How to Choose the Favorable Mechanical Keyboard?
Mechanical keyboards are very popular among gamers and programmers. They have a better feel, and some of them can be programmed to perform certain functions. However, there are many factors that you should consider when choosing one of these keyboards. Let's take a look at some of them:
Construction:
You need to make sure that the keyboard is made from high-quality materials. This is especially important if you want your mechanical keyboard to last for many years without breaking down. Some materials used include aluminum alloy, metal alloy, plastic, and rubber membranes.
Features:
Depending on your needs, you may want to get a keyboard with more features than others. For example, if you're into gaming or programming, then you should choose one that has backlit keys or programmable keys so that your fingers don't get tired during long sessions of typing or gaming.
Conclusion:
Szlangpai Keyboards are the best mechanical keyboard brand. They produce keyboards that are built to last and designed for comfort and efficiency. They have a wide range of different types of keyboards, from simple tenkeyless boards to full-sized ones with more features and functions.
The company was founded in 2015 by a group of engineers who wanted to create high-quality gaming keyboards that were affordable. They started by designing their first model and then went on to produce other models over the next few years.
Their goal was always to make sure that every keyboard they made was made with quality materials, tested thoroughly before it was shipped out, and backed by a warranty so you can feel confident buying one of their products.